Berry Fruit Smoothies: Refreshing and Healthy Blends for Every Taste ===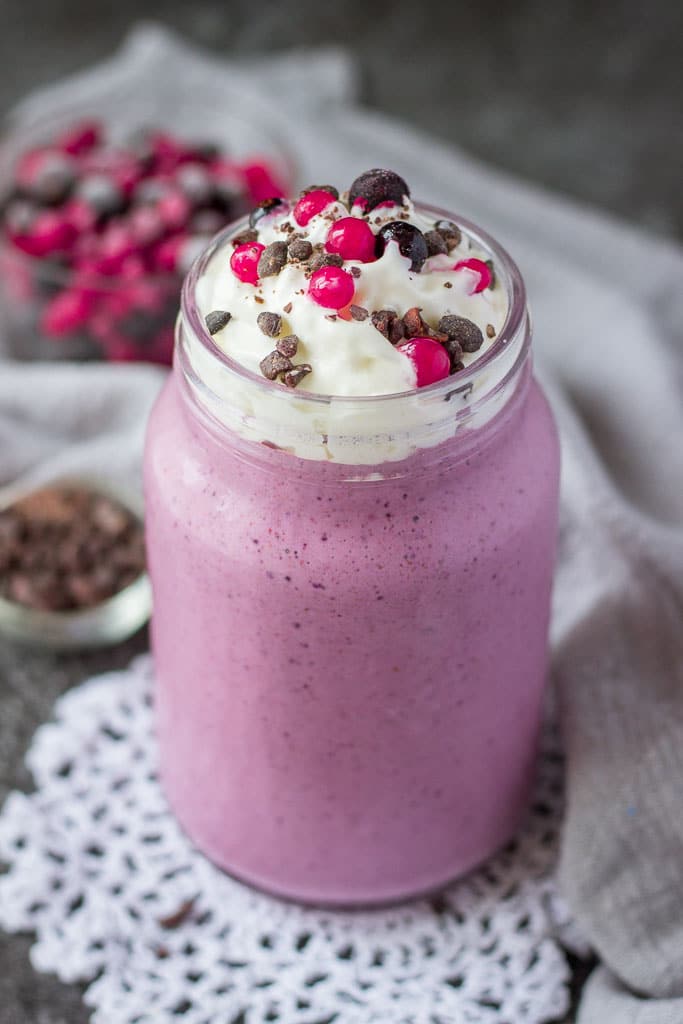 Smoothies are the ultimate summer treat, offering a burst of fruity flavor and a refreshing way to nourish your body. Among the plethora of smoothie options, berry fruit smoothies stand out as the perfect combination of deliciousness and healthiness. With their vibrant colors and delightful flavors, these smoothies are sure to please every taste bud. Get ready to embark on a journey of berry bliss as we explore the ultimate smoothie experiences, irresistible blends, nutritious sips to energize your day, and delightful ways to cool down during the summer.
Berry Bonanza: Discover the Ultimate Smoothie Experiences
When it comes to experiencing the ultimate smoothie extravaganza, berry blends are a must-try. Strawberries, blueberries, raspberries, and blackberries come together to create a symphony of flavors that will leave you wanting more. Whether you prefer a classic strawberry-banana blend or a tangy mix of blackberries and lemon, the possibilities are endless. Don't be afraid to experiment and discover your own unique combination of berries for a truly one-of-a-kind taste experience.
The key to the ultimate berry smoothie experience lies in using fresh, ripe berries. Opt for locally sourced berries to ensure maximum freshness and flavor. Frozen berries are also a great option, especially during off-seasons, as they retain their nutritional value and can make your smoothies extra frosty.
Bursting with Flavor: Indulge in Irresistible Berry Blends
Berry fruit smoothies are the epitome of indulgence, offering a burst of flavor that is simply irresistible. Imagine sipping on a velvety blend of strawberries, bananas, and a hint of honey as the sweetness dances on your taste buds. Or perhaps you crave a tart and tangy mix of blueberries, yogurt, and a squeeze of lemon. Whichever blend you choose, you are guaranteed a mouthwatering experience that will leave you asking for seconds.
To add an extra layer of richness to your berry smoothies, consider incorporating ingredients like almond milk, coconut cream, or Greek yogurt. These creamy additions not only enhance the flavor but also provide a dose of healthy fats and proteins, making your smoothie a well-rounded treat.
Energize Your Day: Sip on these Nutritious Berry Smoothies
Not only are berry fruit smoothies delicious, but they also pack a nutritional punch that will keep you energized throughout the day. Berries are known for their high antioxidant content, which helps protect your body against cell damage and supports overall well-being. They are also a great source of vitamins and minerals, including vitamin C, vitamin K, and potassium.
For an extra boost, consider adding superfoods like spinach, kale, or chia seeds to your berry smoothies. These power-packed ingredients will provide an array of nutrients, including fiber and omega-3 fatty acids, to keep you feeling full and satisfied.
Savor the Summer: Cool Down with Delicious Berry Smoothies
As the summer heat reaches its peak, there's nothing quite like a chilled berry smoothie to help you beat the heat and savor the flavors of the season. The vibrant hues of berry blends perfectly complement the sunny days and add a touch of freshness to your summer routine.
To take your summer smoothie game to the next level, try incorporating a splash of coconut water or a handful of ice cubes to make your smoothie extra refreshing. You can also experiment with adding herbs like mint or basil for a burst of herbal goodness that will transport you to a tropical paradise.
Berry Fruit Smoothies: A Burst of Refreshment and Healthiness===
Ingredients 1 cup 2 milk 1 cup frozen unsweetened strawberries 12 cup frozen unsweetened raspberries 3 tablespoons sugar 1 cup ice cubes Directions Place the milk berries and sugar in a blender cover and process until smooth Add ice cubes cover and process until smooth Berry Smoothie Tips What is the best liquid to put in a smoothie18 Smoothie Recipes to Use Up Spring Produce Fruit amp Yogurt Smoothie 10 mins Are Acai Bowls Healthy Here39s What a Dietitian Says StrawberryBlueberryBanana Smoothie 5 mins BerryKefir Smoothie 5 mins StrawberryChocolate Smoothie 5 mins Blackberry Smoothie 5 mins StrawberryPineapple Smoothie 5 mins StrawberryBanana Green Smoothie 5 minsStrawberryBlueberryBanana Smoothie View Recipe A smoothie with strawberries blueberries and banana is delicately sweet and
entirely kidfriendly even with a boost of protein from hemp seeds Freeze the fruits ahead of time for an extra frosty texture once blended 05 of 23Put the lid on and blend until smooth about 1 to 2 minutes 1 cup milk or juice 1 banana Check the consistency and sweetness of the smoothie Add additional liquid if its too thick and add ice or more frozen fruit if its too thin Add honey or agave if it39s not sweet enough ½ cup yogurtHere are the top healthy and easy frozen fruit smoothie recipes made with every type of fruit These icy purees are loaded with good stuff Looking for frozen fruit smoothie recipes Have we got the list for you You can make smoothies with fruit imaginable from the commonplace strawberry to the uniquely refreshing honeydew melonYou can use whatever frozen berries that
make you happystrawberries raspberries blueberries blackberries or a mix If you head to the frozen fruit section at your local grocery store youll probably spy a few bags of mixed berries These are my favorite for this smoothie MilkIngredients 1 cup fatfree milk 12 cup plain yogurt 14 teaspoon vanilla extract 112 cups fresh or frozen strawberries thawed 12 cup canned unsweetened pineapple chunks22 Smoothies to Help Lower High Blood Pressure SpinachAvocado Smoothie 5 mins Almond Butter amp Banana Protein Smoothie 5 mins StrawberryBlueberryBanana Smoothie 5 mins 32 Healthy Breakfast Smoothies to Start Your Morning Off Right 16 HighProtein Smoothies to Start the Day Strong
Berry fruit smoothies offer a delightful combination of refreshing flavors and nutritional benefits that are sure to leave you feeling satisfied and energized. From the ultimate smoothie experiences to indulgent blends bursting with flavor, there is a berry smoothie for every taste. So, grab your blender, gather your favorite berries, and embark on a journey of deliciousness that will keep you cool and nourished all summer long. Cheers to berry bliss!